Eiyuden Chronicle: Rising How to Complete the 6th Main Quest
Trouble in the Quarry
After completing the 5th Main Quest you are tasked with heading into the Quarry. You can fast travel to the Quarry or head right of the Plaza into the Town Outskirts to find the path to the Quarry.
As soon as you enter the Quarry you will be greeted by Mellore. She mistakes you for some scoundrels and causes a cave-in to happen. The guards decide to seal up the Quarry until the next day.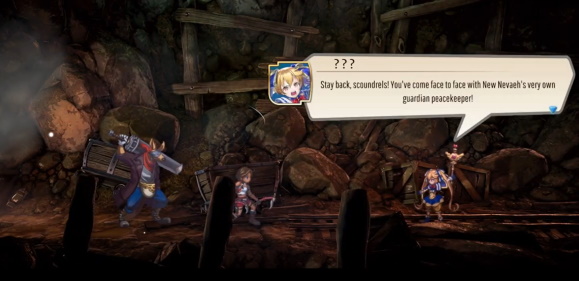 Garoo suggests finding someone to help with equipment a weapon shop and an armor shop. You need to head to Outlander Lane to find someone looking to open a shop.
When you get back to Outlander Lane you meet Bertrand. He seeks mayor Isha to give permission to open his weapon shop. Find mayor Isha, she will be hiding in the Residential District Interior (she is hiding from Bertrand).
After speaking to Isha you must return to Outlander Lane and Bertrand will open the Weapon Shop. You are now able to craft and purchase weapon upgrades.
Reward: 500 EXP, 500 Baqua
Next head to the right to meet Frida. She wants to open an Armor Shop. You find out from Frida she needs some paints.
To find the paints for Frida you must head to the Great Forest. Once you are in the Great Forest proceed right until you get to a signpost and a way to go down. The way will be blocked by a rock and Garoo can bash through this rock for you.
As you go down you will see another pathway with a rock that has to be bashed by Garoo. Follow that path to the right.
This will lead you to an encounter with a large hound (HellHound?). Once you defeat this enemy you can gather the paint from the chest.
Head back to Outlander Lane and give the paint to Frida to complete this section of the 6th Main Quest. You will then need to purchase/craft an armor upgrade for CJ to move on with the quest. 
Reward: 500 EXP, Herbs, 500 Baqua
After obtaining an armor upgrade proceed back to the Plaza to find another person looking to open a shop.
You will meet Robert who gives you an unusual quest to run to the Residential District Interior and back to Outlander Lane.
When you arrive back at Outlander Lane a new area called Second Street will open up. Navigate to Second Street and find Robert. Once you talk to him he will construct the Apothecary. 
Reward:  Slimejelly, 500 Baqua, 500 EXP
Your next task is to craft a healing potion at the Apothecary. Once you have done this CJ is ready to go and this unlocks the 7th Main Quest – Catch That Girl. 
Reward: 100 EXP
Town Additions: Armor Shop, Weapon Shop, Second Street, Apothecary
Check out our Youtube channel for full walkthroughs and more tips.
Video walkthrough of the Eiyuden Chronicle: Rising Main Quest 6 – Trouble in the Quarry: