How to bathe in Medieval Dynasty
Playing the survival/city management game Medieval Dynasty there are many quirks in the game to simulate real-life survival. And one of those things is your character will get dirty over time.
Just like in real life if you run through the woods, build buildings, or farm you are going to get dirty. This doesn't have a big effect until your character gets really dirty. At this point, the other NPCs, and especially anyone you are trying to romance will tell you to take a bath.
How do you take a bath in Medieval Dynasty?
Jump in a lake
The first and easiest option to bathe in Medieval Dynasty is to just jump in a lake or deep river. Any body of water that has some depth will allow you to get clean and the dirty meter will disappear. The small streams that run throughout the valley are not deep enough to bathe in.
Use a washtub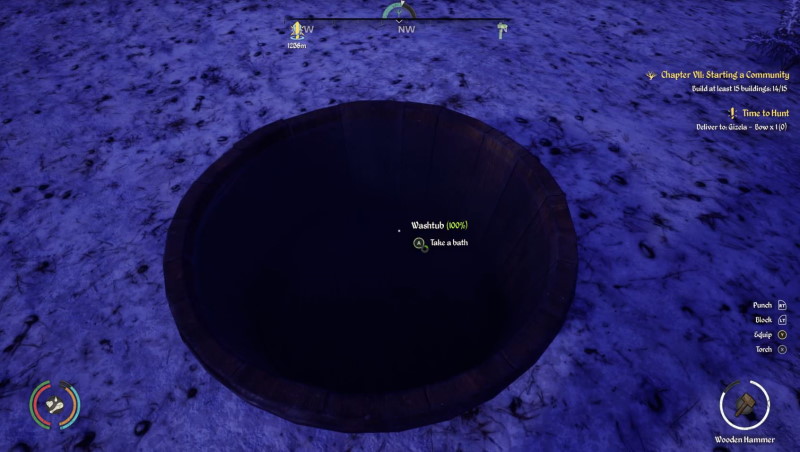 Once you have some resources going and some buildings built you should have enough to build your own washtub so that you can clean yourself without having to jump in some water.
How do you craft a washtub in Medieval Dynasty?
A washtub requires 6 planks to craft. To acquire planks you can either find them (occasionally along bodies of water or in camps). Or you can craft them at a woodshed.

At a woodshed, you can approach the carpenter's rack and you can make 2 planks with 1 log.
Once you have your 6 planks go to your crafting menu and go to furniture decorations, then select miscellaneous, and then washtub.
After you have your washtub you are not ready to bathe yet. You still need some water.
To fill your washtub you need to get some buckets of water. You can buy buckets from vendors, steal them, or craft your own bucket. Equip the bucket and find a water source (river, lake, or well) and fill the bucket.
Then you will equip the bucket of water and fill the washtub up. Once the washtub is filled up with water you will have the option to "Take a bath".
---
For more tips and game playthroughs check out and subscribe to our YouTube channel.
Did this guide help you? If so consider checking out our eBay store to help us pay the bills.
eBay Store – Year of the Dad Gaming