Eiyuden Chronicle: Rising How to Complete the 23rd Main Quest
The Guardian Peacekeeper
After you complete the 22nd Main Quest head left and you will see a new area unlocked right before the signpost.
Enter the Lava Ruins and start to head right. In the next area, you will come out on the other side of the Lava Ruins.
Once you are through you will see another signpost. Head slightly to the left and climb up the rock and then head up and to the right. Stay on top of the platforms and keep going right.
Eventually, you will come to another area. You will fight through some fire Yetis and other fire enemies until you can go right again. In this area, you will reencounter Mellore and her followers.
This time she has engaged the boss of the Lava Ruins. You must battle the Lava Mantor Wyrm.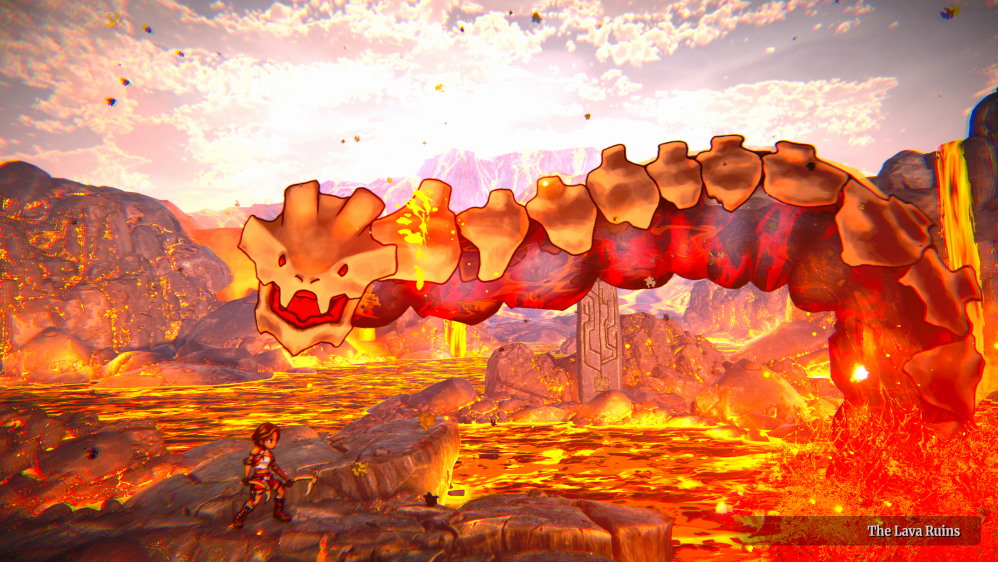 The Lava Mantor Wyrm will throw fireballs from above and occasionally shoot a large lava ball out of its mouth. Keep using Link attacks to defeat it.
Defeating the Lava Mantor Wyrm will cause a massive eruption of the volcano. You will next be transported back to the Town Outskirts for another cut scene.
Once you defeat the Lava Mantor Wyrm you will complete the 23rd Main Quest – The Guardian Peacekeeper.
Reward: Rune-Lens, 4000 EXP
Achievement Unlocked: The Lava Mantor Wyrm
For more game walkthroughs and tips subscribe to our Youtube channel.
See the complete main quest walkthrough with side quests in this video: