Eiyuden Chronicle Rising How to Complete the 4th Main Quest
The Cost of Good Manners
After completing the 3rd Main Quest you head back to the plaza to talk to mayor Isha and Gocteau. Gocteau seems to think that you can help them with a problem on Outlander Lane. It seems that they are reaching capacity and need an inn and a tavern.
After this short discussion, you can head right to the newly unlocked Outlander Lane. Once you have traveled to Outlander Lane you will quickly see Sarita who is first on your list to meet. Talk to Sarita.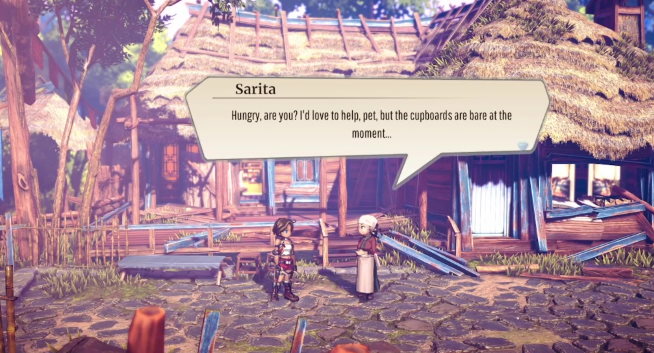 Sarita tasks you with finding some Lightweight Lumber that can be found in the Great Forest. Then she directs you along to the right to find Rajiv.
After meeting Rajiv you find out he needs some Heavy Stone to finish the inn repairs. The Heavy Stone is found in the Great Forest also.
Head back to the left to exit Outlander Lane into the Plaza, then head right and go back into the Great Forest.
Alternatively, you can Fast Travel into the Great Forest since you have visited this location.
Once in the Great Forest, you will head to the right through several areas. Eventually, you will meet a new enemy with a big sword (CJ will comment on the size of the sword). After defeating this enemy you will find the Lightweight Lumber behind him.
If you continue to the right just a little bit you will defeat a few more enemies and find the Heavy Stone on a small ledge.
If you keep going right you will find a signpost to Fast Travel back or you can go back to the left to exit the Great Forest.
Head back into Outlander Lane and return the Lightweight Lumber to Sarita. Once she has this the tavern will be officially open.
Continue to the right and return the Heavy Stone to Rajiv. Once he has this the inn will be open on Outlander Lane.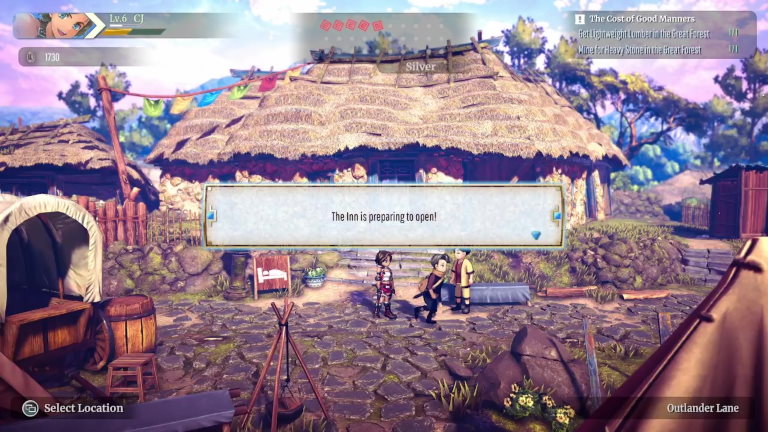 Now go left to head back to the Plaza and report back to Isha.
After talking to Isha she will reward you with your Explorer License. After some more discussion and information about the game, you will complete the quest The Cost of Good Manners.
Reward: Ogre Horn, 100 EXP
See this video for a complete walkthrough and subscribe to our channel for more tips and gameplay.