Real VR Fishing Review
Real VR Fishing is a virtual reality game where you fish in a lot of different locations in South Korea. With some of the new DLC, you can fish on the west coast of the USA and in Japan.
I play on the Meta Quest 2 but you can also play on the HTC VIVE. The game is $20 on Meta.
This game is for anglers and non-anglers alike. If you are anything like me you always want to fish but most of the time can't. If so this is the right game for you.
There are spinning rods, baitcasting rods, various baits, and lures. There are 3 levels of everything you can buy C level which is the bare bone B level is mediocre but better than the C level. The A level is the best. It has the best rods, the best baits, and the best lures.
The leveling system is a bit weird to me but when you catch a fish you have two choices: release it or keep it in your tank. When you release the fish you get a certain amount of EXP. When you keep it you get money to then buy things. Each time you level up it unlocks a new location to fish. When you get to level 16 you can saltwater fish.
In my opinion, saltwater fishing is the best. In some spots, you need different boats to fish, a bigger boat for saltwater, and a smaller boat for freshwater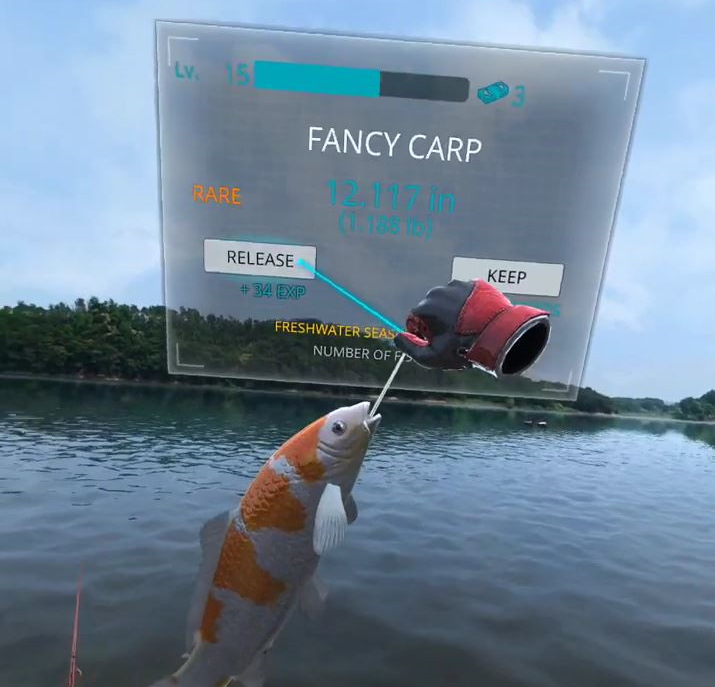 There is a vast variety of different fish. Like largemouth bass, Chinese sturgeon, snakehead, rainbow trout, salmon, and bluegill just to name a few. There are rare fish, epic fish, and normal fish. Epic and rare fish give more EXP and cash but for some fish, you have to be a certain level to catch them. You have a chance to catch a shark sometimes but even though it says they are rare, I have caught easily 5 in one day and 7 overall.
Here are some things I don't like about Real Vr Fishing.
You can't hold the rod with two hands while casting you must choose between your right hand or your left.
The reeling can sometimes give your hand cramps because it is repetitive.
You can't walk around the area or drive your boats around.
I like when it rains in the game but you can't control when it is dark in the area raining or storming. It is based on the area you are in the game.
To play this game you have to have patience because it takes a while to level up and get money.
Real Vr Fishing is a great game with many more updates coming. I only expect it to get better.
I am working on gameplay for my Youtube channel Year of The Son Gaming. Please go check out my Youtube channel