NOTE* For the seamless world update click here on how to use the enchanting table. The below information only applies to the old version or the current Xbox version
With the Boss Rush Dungeon after you defeat the boss (or bosses) for each room, you unlock a chest containing a blank enchanting scroll.
But what do you do with blank enchanting scrolls?
Once you have the blank enchanting scrolls in your inventory you use them and it will unlock the scroll and move to your material inventory. Once it is in your material inventory the blank scroll with now have an enchant tied to it that you can utilize at an enchanting table.
How do you use an enchanting table?
The enchanting table is only available to craft from a workbench (Maintainance section) and only after you have reached the Age of Scientific Research,
Requirements for building an enchanting table:
10 Elemental Ingot
10 Reinforced Wood
10 Paper
Once you have an enchanting table you can only add weapons or items that can be equipped in your off-hand slot such as a shield, gauntlet, or iron magic catalyst.
When you access the enchanting table you will select the weapon (or off hand item) and press X to move it to the enchanting table.
Once it is on the table the enchants on the item should show up in the four slots underneath the weapon. If the weapon only has 3 enchants then only 3 enchants will show up.
Once your weapon is on the enchanting table go down to your material inventory and find your enchanting scrolls. Pick the enchanting scroll you want to use and click X to move it over to the enchanting table. It will automatically go into the first slot. You can also drag the enchanting scroll over into the correct slot.
Now you can select the enchantment scroll and move it up or down and replace the enchantment on the existing item on the table.
Repeat this process for all the scrolls you plan to use.
Once you have every scroll in the right slot you can click "Check Result" to see what is going to get replaced.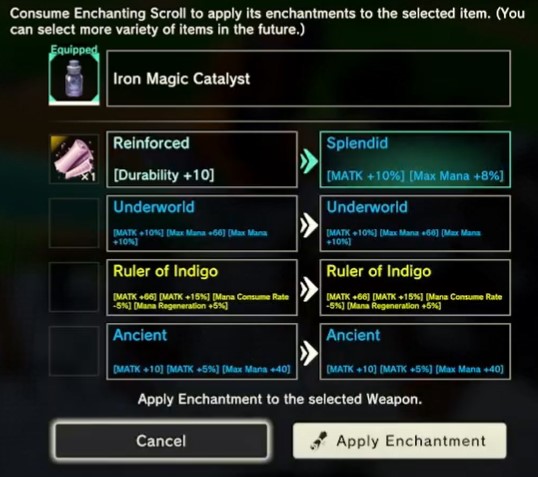 If you are happy with the result then click the Apply Enchantments button. Then the newly enchanted item will be added back into your inventory.
What enchants are available on enchanting scrolls?
The enchanting scrolls go from level 1 up to level 14 (I to XIV).
Here is a table breakdown for each level and what enchant is available.
| Blank Enchantment Scroll Type | Enchantment |
| --- | --- |
| Blank Enchantment Scroll I | Dark Haired |
| Blank Enchantment Scroll I | Freezing |
| Blank Enchantment Scroll I | Hard |
| Blank Enchantment Scroll I | Holstein |
| Blank Enchantment Scroll I | Hunter's |
| Blank Enchantment Scroll I | Kraken's |
| Blank Enchantment Scroll I | Ominous |
| Blank Enchantment Scroll I | Red Shiny |
| Blank Enchantment Scroll I | Root's |
| Blank Enchantment Scroll I | Scorching |
| Blank Enchantment Scroll I | Sword's |
| Blank Enchantment Scroll I | Valley's |
| Blank Enchantment Scroll II | Dark Haired |
| Blank Enchantment Scroll II | Hunter's |
| Blank Enchantment Scroll II | Bear's |
| Blank Enchantment Scroll II | Gunslinger |
| Blank Enchantment Scroll II | Kraken's |
| Blank Enchantment Scroll II | Penguin's |
| Blank Enchantment Scroll II | More Ominous |
| Blank Enchantment Scroll II | More Scorching |
| Blank Enchantment Scroll II | Red Shiny |
| Blank Enchantment Scroll II | Root's |
| Blank Enchantment Scroll II | Poisonous Water's |
| Blank Enchantment Scroll II | Reindeer's |
| Blank Enchantment Scroll II | Wolf's |
| Blank Enchantment Scroll III | Bear's |
| Blank Enchantment Scroll III | Booting |
| Blank Enchantment Scroll III | Guillotine's |
| Blank Enchantment Scroll III | Gunslinger |
| Blank Enchantment Scroll III | Iron Stinger's |
| Blank Enchantment Scroll III | Malicious |
| Blank Enchantment Scroll III | More Ominous |
| Blank Enchantment Scroll III | More Scorching |
| Blank Enchantment Scroll III | North's |
| Blank Enchantment Scroll III | Overwatching |
| Blank Enchantment Scroll III | Poisonous Water's |
| Blank Enchantment Scroll III | Reindeer's |
| Blank Enchantment Scroll III | Wolf's |
| Blank Enchantment Scroll IV | Booting |
| Blank Enchantment Scroll IV | Guillotine's |
| Blank Enchantment Scroll IV | Fast-talking |
| Blank Enchantment Scroll IV | Half Moon |
| Blank Enchantment Scroll IV | Iron Stinger's |
| Blank Enchantment Scroll IV | Malicious |
| Blank Enchantment Scroll IV | Poisonous Swamp's |
| Blank Enchantment Scroll IV | Scarlet-Eyes |
| Blank Enchantment Scroll IV | North's |
| Blank Enchantment Scroll IV | Overwatching |
| Blank Enchantment Scroll IV | Splendid |
| Blank Enchantment Scroll IV | Veteran |
| Blank Enchantment Scroll V | Death-or-Glory |
| Blank Enchantment Scroll V | Fast-talking |
| Blank Enchantment Scroll V | Half Moon |
| Blank Enchantment Scroll V | Poisonous Swamp's |
| Blank Enchantment Scroll V | Pole Guardian's |
| Blank Enchantment Scroll V | Reckless |
| Blank Enchantment Scroll V | Scarlet-Eyes |
| Blank Enchantment Scroll V | Snow Demon's |
| Blank Enchantment Scroll V | Snow Fairy's |
| Blank Enchantment Scroll V | Splendid |
| Blank Enchantment Scroll V | Veteran |
| Blank Enchantment Scroll VI | Death-or-Glory |
| Blank Enchantment Scroll VI | Fast-talking |
| Blank Enchantment Scroll VI | Victorious |
| Blank Enchantment Scroll VI | Violent |
| Blank Enchantment Scroll VI | Poisonous Swamp's |
| Blank Enchantment Scroll VI | Pole Guardian's |
| Blank Enchantment Scroll VI | Reckless |
| Blank Enchantment Scroll VI | Snow Demon's |
| Blank Enchantment Scroll VI | Snow Fairy's |
| Blank Enchantment Scroll VI | Splendid |
| Blank Enchantment Scroll VII | Death-or-Glory |
| Blank Enchantment Scroll VII | Pole Guardian's |
| Blank Enchantment Scroll VII | Deadly |
| Blank Enchantment Scroll VII | Victorious |
| Blank Enchantment Scroll VII | Reckless |
| Blank Enchantment Scroll VII | Snow Demon's |
| Blank Enchantment Scroll VII | Violent |
| Blank Enchantment Scroll VII | Snow Fairy's |
| Blank Enchantment Scroll VIII | Dangerous |
| Blank Enchantment Scroll VIII | Rainbow |
| Blank Enchantment Scroll VIII | Deadly |
| Blank Enchantment Scroll VIII | Destructive |
| Blank Enchantment Scroll VIII | Giant's |
| Blank Enchantment Scroll VIII | Victorious |
| Blank Enchantment Scroll VIII | Violent |
| Blank Enchantment Scroll IX | Dangerous |
| Blank Enchantment Scroll IX | Destructive |
| Blank Enchantment Scroll IX | Full Moon |
| Blank Enchantment Scroll IX | Giant's |
| Blank Enchantment Scroll IX | Rainbow |
| Blank Enchantment Scroll X | Beheading |
| Blank Enchantment Scroll X | Crimson-Eyes |
| Blank Enchantment Scroll X | Dangerous |
| Blank Enchantment Scroll X | Destructive |
| Blank Enchantment Scroll X | Fire Demon |
| Blank Enchantment Scroll X | Fire Spirit |
| Blank Enchantment Scroll X | Full Moon |
| Blank Enchantment Scroll X | Giant's |
| Blank Enchantment Scroll X | Quiet Death Bringer's |
| Blank Enchantment Scroll X | Rainbow |
| Blank Enchantment Scroll X | The Great |
| Blank Enchantment Scroll X | Thief's Boss's |
| Blank Enchantment Scroll XI | Beheading |
| Blank Enchantment Scroll XI | Crimson-Eyes |
| Blank Enchantment Scroll XI | Destructive |
| Blank Enchantment Scroll XI | Fire Demon |
| Blank Enchantment Scroll XI | Fire Spirit |
| Blank Enchantment Scroll XI | Full Moon |
| Blank Enchantment Scroll XI | Quiet Death Bringer's |
| Blank Enchantment Scroll XI | The Great |
| Blank Enchantment Scroll XI | Thief's Boss's |
| Blank Enchantment Scroll XII | Desperate |
| Blank Enchantment Scroll XII | Fire Demon |
| Blank Enchantment Scroll XII | Final Deadly |
| Blank Enchantment Scroll XII | Goddess's |
| Blank Enchantment Scroll XII | Fire Spirit |
| Blank Enchantment Scroll XII | Might is Right |
| Blank Enchantment Scroll XII | Stabbing |
| Blank Enchantment Scroll XII | Spring Demon's |
| Blank Enchantment Scroll XII | Spring Fairy's |
| Blank Enchantment Scroll XII | Thief's Boss's |
| Blank Enchantment Scroll XIII | Berserker's |
| Blank Enchantment Scroll XIII | Bouncer's |
| Blank Enchantment Scroll XIII | Capricious |
| Blank Enchantment Scroll XIII | Deadland's |
| Blank Enchantment Scroll XIII | Eye Contact |
| Blank Enchantment Scroll XIII | Final Deadly |
| Blank Enchantment Scroll XIII | Fully Blooming |
| Blank Enchantment Scroll XIII | Goddess's |
| Blank Enchantment Scroll XIII | Golden Sky's |
| Blank Enchantment Scroll XIII | Lovable |
| Blank Enchantment Scroll XIII | Muscular |
| Blank Enchantment Scroll XIII | Purging |
| Blank Enchantment Scroll XIII | Rule of Indigo |
| Blank Enchantment Scroll XIII | Stabbing |
| Blank Enchantment Scroll XIII | The Never Ending Sky's |
| Blank Enchantment Scroll XIII | Undead Killer's |
| Blank Enchantment Scroll XIII | Wise Ruler |
| Blank Enchantment Scroll XIV | Bouncer's |
| Blank Enchantment Scroll XIV | Deadland's |
| Blank Enchantment Scroll XIV | Eye Contact |
| Blank Enchantment Scroll XIV | Fully Blooming |
| Blank Enchantment Scroll XIV | Golden Sky's |
| Blank Enchantment Scroll XIV | Purging |
| Blank Enchantment Scroll XIV | Ruler of Indigo |
| Blank Enchantment Scroll XIV | The Never Ending Sky's |
| Blank Enchantment Scroll XIV | Undead Killer's |
| Blank Enchantment Scroll XIV | Wise Ruler |
For more tips and helpful videos check and subscribe to our Youtube channel