Where to get a bow in Medieval Dynasty
Hunting is a core mechanic of the game Medieval Dynasty. Early in the game, you can craft a spear to throw at animals, use your bare hands, or hit animals with a stone axe to hunt animals.
But for the more dangerous animals like wolves, bears, and boars those methods may cause you to die very quickly.
To be a truly effective hunter in Medieval Dynasty you need to find a bow and be proficient with the bow.
How can you get a bow in Medieval Dynasty?
Complete Alwin's Story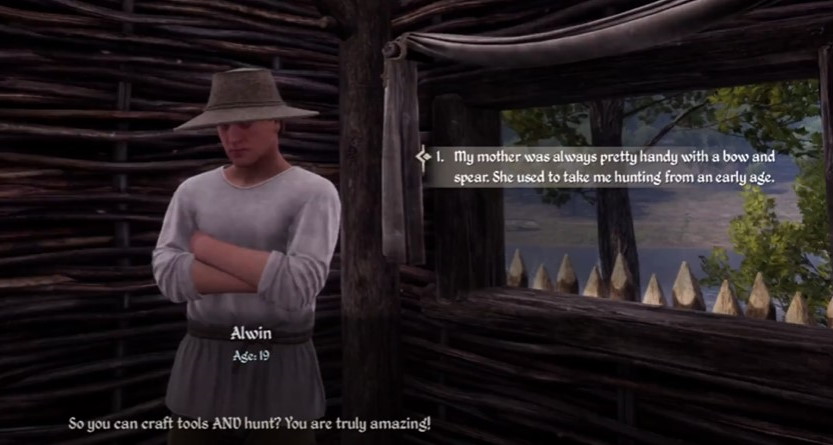 Alwin is a simple farmer who works the fields just outside of Gostovia. He is one of the first quests you can complete in the game. If you keep progressing through his story he eventually wants to become a hunter. If you beat him in all of his challenges, he eventually gives you a bow. 
The only issue here is that you need a bow to beat him at his own game. Luckily part of this quest takes you to a merchant that sells bows. Which leads to the next way to acquire a bow.
Purchase a bow
In every village in the valley, there are merchants. Some of these merchants sell food, some sell manure, but some merchants will sell weapons. The bow is relatively inexpensive so buying one might be the easiest way to acquire a bow.
Here are the weapon vendors and where they are located:
Gizela (Hunter) – Lurica
Rajmund (Hunter) – Tutki
Teobald (Blacksmith) – Lesnica
Jan (Blacksmith) – Hornica
Explore
Throughout the valley, if you go off the beaten path once in a while you can find random camps. Sometimes the camps are inhabited by bandits, but often (especially in the first year) you will find the camps are just empty. 
Within these camps are usually some good loot. And more often than not you will find a bow just laying around that you can pick up and take.
If the camps have bandits more than likely one of the bandits will be shooting at you with a bow. If you get in and kill all of them and survive, you can loot and retrieve the bow the bandit was using.
Craft a bow
If you build a hunting lodge or smithy you can craft a bow after acquiring enough survival technology and purchasing the scheme for 100 coins. But to craft a bow you need 1 log and 1 linen thread. The log should be easy enough to acquire but you might have to work a little bit to get the linen thread.
For more tips and gaming playthroughs check out our Youtube channel.