There are many creatures in Craftopia. You have cows, goblins, dragons, NPCs and so much more. The creators of Craftopia call these creatures "mobs". Some mobs are docile and will never bother you unless provoked. Some mobs will attack you as soon as you get close.
Other mobs will run if you get anywhere near them. Deer, chickens, and foxes will run if you get close to them.
Most mobs have set spawn points on each map. Finding the mobs and what type of creature you are looking for should be easy once they spawn on a map.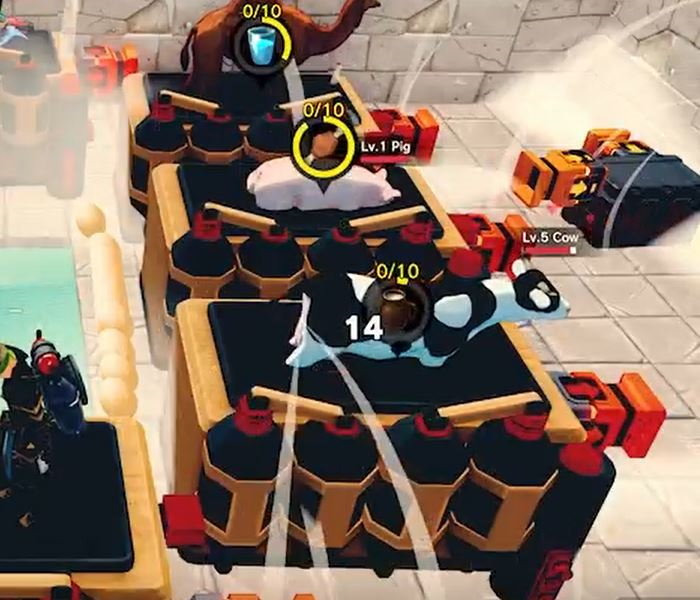 Almost all of the mobs can be captured and then put into a Livestock Farm. You can utilize these machines to automate the creation of certain critical resources. Click here for a guide on how to automate water collection.
Also, you can set up breeding facilities to breed mobs and then send the creature created to their death and collect the resources. A great example of this is to breed crocodiles to get "Dangerous" enchanted iron ore and leather. The Dangerous enchant is a good early game enchant to increase attack damage.
You can also tame certain creatures. The Crimson Dragon is one of the better mobs to capture and tame. You can ride the dragon and fly around the map instead of relying on jet packs or the biplane. Click here for a guide on taming pets in Craftopia.
Creatures can also be captured and put to use on Generators to generate batteries. They will run on the Generator until their health runs out or if you set up a green mono breeder next to them you can utilize the healing that shoots out of a dying Green Mono to keep the mob going forever. Click here to read about building a battery farm in Craftopia.
Craftopia mob list with their drops
Name
Farms
Drops
Notes
alligator turtle
egg
animal flesh
shell
talon
can survive in water
anubis
NA
egg
bat
fang
fang
leather
bear
salmon
animal flesh
leather
talon
fang
black-tailed gull
egg
bird feather
carrot seed
apple seed
boar
animal flesh
animal flesh
fang
leather
buffalo
milk
animal flesh
bone
leather
horn
camel
water
animal flesh
bone
leather
cassowary
bird feather
egg
bird feather
talon
chicken
egg
egg
bird feather
cow
milk
animal flesh
milk
crocodile
leather
animal flesh
fang
iron ore
leather
can survive in water
deer
leather
animal flesh
leather
horn
bone
dragon
NA
iron ore
titanium ore
platinum ore
flamberge
higher level ones can drop bonemeal of enormous beast
elephant
ivory
animal flesh
ivory
leather
bone
explorer alwida
pepper
egg
fisher sanpei
rubber boot with a hole
egg
fox
talon
animal flesh
leather
talon
giant tortoise
egg
animal flesh
shell
giraffe
horn
animal flesh
apple seed
leather
bone
gorilla
banana peel
leather
throws barrels and feces at you
goblin bard
talon
corn seed
goblin healer
talon
bean seed
small life potion
elemental dust
goblin hunter
talon
seed paddy
mushroom
goblin kid
fang
talon
fang
straw
goblin shaman
talon
seed paddy
mushroom
elemental dust
goblin warrior
talon
potato seed
talon
fang
green mono
water bucket
egg
cactus
shoots out healing on death
griffin
NA
greif-seufzer
bird feather
talon
higher level griffins will drop griffin feathers and tokens
hell chicken
egg
animal flesh
bird feather
horse
carrot
carrot
animal flesh
leather
hunter william
wooden arrow
egg
jack o' lantern
jack o' lantern
elemental dust
charcoal
pumpkin crumb
killer bee
honey
shell
king mono
NA
king mono fluid
egg
heir crown
lizard axe
fang
talon
leather
fang
lizard sword
fang
talon
leather
fang
lone wolf
fang
animal flesh
leather
fang
merchant smith
milk
egg
one item from merchant inventory
mono (blue)
water bucket
egg
moving root
needle
needle
can get bigger when two are put together
orc warrior
cooking oil
cooking oil
fang
straw
peko
egg
egg
animal flesh
talon
penguin
fillets of fish
bird feather
can survive in water
phoechicks
bird feather
bird feather
ash
can resurrect
pig
animal flesh
truffle
animal flesh
leather
bone
prince mono
NA
egg
amber
purple mono
water bucket
egg
shoots out poison on death
red mono
water bucket
egg
shoots out fire on death
reindeer
leather
leather
horn
bone
gift box
cream stew
orange cake
researcher faust
elemental dust
egg
robber kevin
milk
egg
iron ore
talon
leather
sheep
sheep wool
sheep wool
animal flesh
skeleton lieutenant
bone
corn seed
fang
talon
skeleton private
bone
potato seed
fang
bone
talon
skeleton private first class
bone
bean seed
bone
talon
fang
warrior thorkel
leather
egg
werewolf
fang
talon
fang
leather
egg
white bear
leather
talon
leather
fang
animal flesh
can survive in water
wolf
fang
animal flesh
talon
fang
leather
If you found this list useful please share it. Also, subscribe to our Youtube channel for more tips, tricks, and guides for Craftopia.